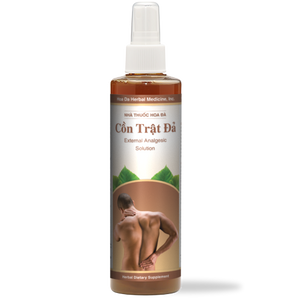 Good for: pain, bruising, and injury to muscles, bones, tendons, ligaments, joints, and spine.  This formula is a 4-generation-long family secret, intended to help athletes speed up recovery time, and was traditionally prescribed to help injured martial arts practitioners suffering from pain, soft tissue damage and even broken bones. Formula have been shown to promote healthy blood flow, reduce pain, swelling and inflammation, promote faster healing in cases involving torn ligaments, injured tendons, fractured bones, dislocated joints, muscle tearing, and trauma to the neck, shoulders and spine.  
Instruction: Do not use directly on broken skin. Spray sparingly onto site of injury and gently massage for 2-5 minutes. Use 2-3 times each day until pain and bruising subside. If injury is more extensive, soak a piece of cloth in solution and wrap cloth around site of bruising or injury. Change cloth once each day, continue treatment until pain and bruising subside.
Ingredients: Dried Ginger, Cinnamon Twigs, Angelica Sinesis, Safflower, Xie mu, Aged Citrus Peel, Foeniculum Vulgare, Boswellia carterii resin, Mmiphora Myrrha Resin.
Warning: Intended for external use only. Not for oral consumption. Keep out of reach of children.