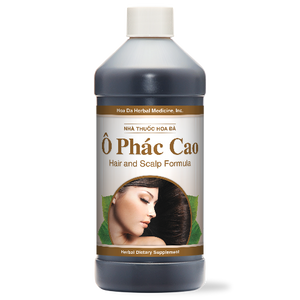 Good for: Formula provides necessary nutrition to manage conditions such as balding, alopecia, hair Loss, premature gray hair, breakage and split ends in both Men and Women.  The herbal ingredients in this formula aim to nourish the functions in your body responsible for hair growth and hair health.   This formula promotes healthy hair growth, helps balance hormones, and supplements blood deficiencies.
Ingredients: Cooked Rehmannia, Sage Root, Angelica Root, White Peony Root, Privet Fruit, Eclipta Herb, Black Sesame Seeds, Biota Leaf,Mulberry Root Bark, Chinese Raspberry, Morning Glory Seeds, Angelica Root, Apricot, Arnebia Root.
Instruction: 4 tablespoon before meal, 2-3 times daily. Shake well and refrigerate.