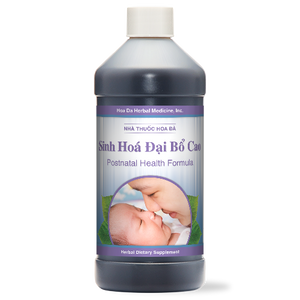 Good for: May help to nourish women's health post delivery, replenish energy, tonify blood, cleanse excess discharge and odor, post partum symptoms, sleep disorders and may assist in fast recovery of any strains done to the uterus by tonifying Qi and blood while unblocking blood stasis.
Ingredients: Combining 3 classic herbal formulas; "Shi Quan Da Bu Tang" (All inclusive great tonifying decoction), "Dang Gui Bu Xue Tang"  (Angelica Tonifying Blood decoction), and "Sheng Hua Tang" (Generating and transforming decoction).
Instruction: 1 tablespoon before meal, 2-3 times daily. Shake well and refrigerate.