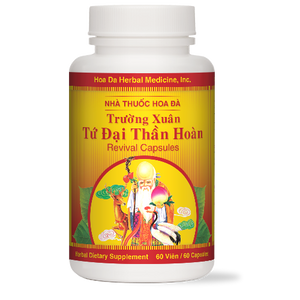 Good for: Providing comfort for critically ill patients, end – stage ailments, by promoting nourishment and revival of failed organs.  Great for support of severely diminished immune system, chronic diseases, and physical exhaustion.  Herbal ingredients in this formula have been shown in clinical research to significantly increase energy, enhance sex drive and improve sexual functions, extend life, promote longevity, has anti-aging properties, antioxidant, benefit chronic Kidney disease, tinnitus (ringing in the ear), night urination, increase immune cells (white blood cells), possess anti-tumor effects, inhibit growth in Cancer, helpful as adjunct therapy for Lung cancer, Skin cancer, Colon cancer, Liver cancer, Lymphoma, Melanoma, benefit type 2 Diabetes, and protect Heart (contains Adenosine) from arrhythmia, and high Cholesterol.
Women: Nourish the root that manifests into eternal health and Beauty. A secret formula that, in ancient times, was only available to empresses and royalty.
Men: Revive youth and strength.
Ingredients: Wild Tibetan Cordyceps, red Japanese Reishi Mushroom, premium grade Swallows Nest, Wild Aged Ginseng.
Instruction: 1 capsule with warm water, 1-2 times daily.