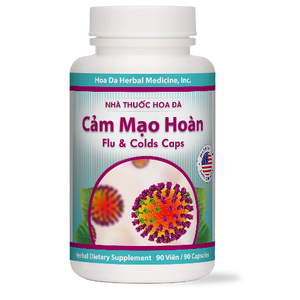 Good For: Flus & common colds. Addresses symptoms such as body aches, chills and fever, headache, coughs, sweating, sneezing, stuffy nose, runny nose, and sore throat.
Ingredients: Agarikon, Kudzu Root, Angelica Root, Honeysuckle Flower, Forsythia Fruit, Isatis Root, Fritillaria Bulb, Glehnia Root, Apricot Seed, Aged Tangerine Peel, Bupleurum, Skullcap Root, Licorice Root. 
Instructions: 3 times daily, 3 caps each time, take until symptoms subside.
Recommendations: warm showers, shower in the day time only, dry hair immediately after shower, increase rest time, avoid staying up late, keep a fluid diet, stay hydrated, take Vitamin C & Zinc.