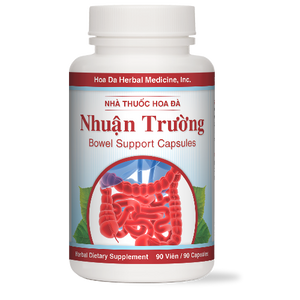 Good for: Promoting healthy bowel movements, especially in cases of chronic constipation, dry and hard stool, defecation incontinence, and difficulty maintaining regular healthy bowel movements (once per day is considered normal). May also be helpful for lower abdominal pain/cramps and bloating.
Ingredients: Fleece flower root, angular Solomon's seal, Areca peel, Betel husk, green Tangerine peel, orange Tangerine peel, ripe Bitter Orange, Laurel-leaf Snail tree seed, Chinese Rhubarb.
Instruction: 3 times daily, 3-4 capsules with warm water. Once bowel movement is achieved, decrease to 2-3 capsules once per day. Can be taken as needed. Does not require daily usage.