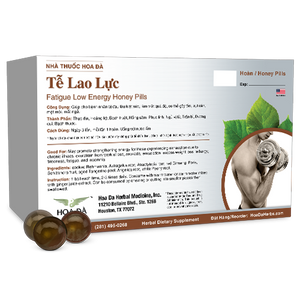 Good for: boosting energy in those experiencing exhaustion due to chronic illness, overstrain from work stress, anorexia, emaciation, malnourishment, extreme weight loss, lethargy, tiredness, fatigue, and insomnia.
Ingredients: cooked Rehmannia, Astragalus root, Atractylodis root, red Ginseng, Poria, Schizandra fruit, aged Tangerine peel, Angelica root, white Peony root.
Instruction: 1 ball each time, 2-3 times daily. Consume with warm water or warm water mixed with ginger juice extract. Can be consumed by chewing or cutting into smaller pieces then swallowed.