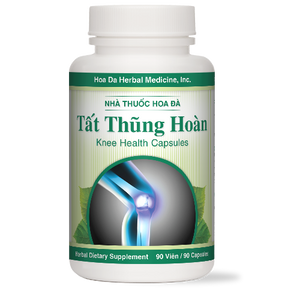 GOOD FOR: May be helpful in cases of swollen knees, fluids buildup in the knee joint, irritated knees with redness and swelling, difficulty walking, and pain in knees when weather turns cold, by draining dampness and tonifying Yang.
INGREDIENTS: Chinese peony, Cooked Rehmannia, Salvia, Poria Cocos, Teasel root, Skullcap root, Amur cork tree bark, Asiatic Cornelian cherry fruit, Chinese yam, Burreed tuber, Ox-knee root, Plaintain seeds.
INSTRUCTION: 3 times per day, 3-4 pills each time (depending on severity) with warm water.