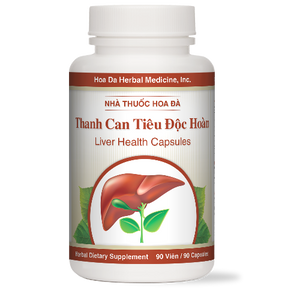 Good for:  Formula has detoxifying functions and can be helpful as a cleanse.  Herbal ingredients included may have antibiotic and anti-inflammatory functions that can promote faster wound healing.  This formula acts as support for the Liver especially for those suffering from Liver conditions such as Hepatitis, Liver Cirrhosis, pain in hypochondriac region, acne, poor complexion, ulcers in the mouth, canker sores, swollen/ bleeding or painful gums, itchy skin, flaky and unhealthy skin, eczema, psoriasis, and many other Liver related conditions. 
Ingredients: Honey Suckle Flower, Angelicae Sinesis Radix, Aurantii Fruits, Anemarrhenae Rhizoma, Phellodendri Cortex, Licorice root, Puerariae Radix, Dandelion, Baical Skullcap Root.
Instructions: 3 times daily, 3-4 capsules each time (depending on severity). Children should consume 1/3 or 1/2 of adult's dosage.
** Restrict red meat, shrimp, crab, shellfish, cured and processed food consumption.