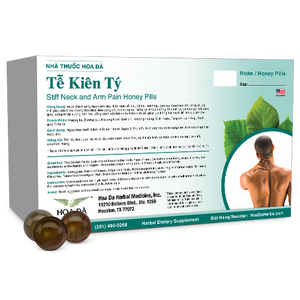 GOOD FOR: pain related to degeneration of cervical vertebrae leading to neck, shoulder, arm and hand pain, tingling and stiffness.  Compressed, irritated and pinched nerves can cause pain and tingling sensations radiating from the neck & shoulders down to arm, hand and fingers.  Herbal formula have shown to help cases of frozen shoulder, shoulder muscle pain caused by inflammation, injury or overstrain.  Formula have also improved wrist, carpal tunnel, and arthritis pain in the hands. 
INGREDIENTS: Astragalus membranaceus, Angelica sinesis, Notopterygium incisium Ting, Cinnamon twigs, Turmeric Rhizome, Taiwanese sweetgum fruit, Brassica alba boissier, Citrus deliciosa Tenore.
INSTRUCTION: Chew and swallow 1 pill each time, 3 times a day (drink with warm water or with small amount of wine). For severe symptoms, consume 2 pills, twice daily.
AVOID: Beef, eggplant and seafood because it can make the pain worse.