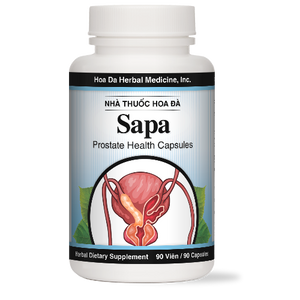 Good for: May help to promote normal and healthy Prostate functions in men. May be helpful in cases of painful urination (dysuria), Urinary Incontinence (difficulty urinating, loss of control, too little/too much urine, urgency or overactive) by tonifying Kidney Qi and Kidney Yang.
Ingredients: Peach seed, Safflower flower, red Peony root, Ox-knee root, Amur Cork tree bark, Anemarrhena rhizome, Lophatherum stem and leaves, spine of Honeylocust plant, Licorice, Cinnamon bark.
Instruction: 3 Capsules each time, 2-3 times daily (depending on severity of symptoms).