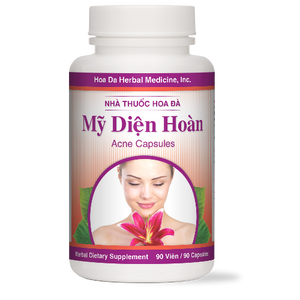 Good for: acne, clogged or irritated skin follicles, whiteheads, blackheads, skin rash and redness.  Formula helps to cleanse the body of toxicity, promoting skin regeneration, which results in brighter and smoother skin.
Ingredients: Rhizoma Coptidis, Amur Cork Tree Bark, Baical Skullcap Root, Mulberry Root Bark, Musk Mallow Seeds, White Poria Cocos, Honey Suckle Flower.
Instruction: 3 capsules, 3 times daily.
Recommendations: We advise patients to cut down on eating foods that are spicy, greasy, fried, or sweet.  Coffee, and very sweet fruits such as mangos, should also be avoided to maximize the benefits of the treatment.