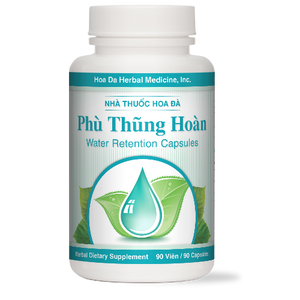 Good for: general water retention (edema) resulting in swollen face, body and limbs.  Especially good for symptoms that get worse as the day progresses. May also be helpful for headaches, blurry eyes, and low energy due to water retention.
Ingredients: Barrenwort, Morinda root, Magnolia bark, immature Bitter Orange, Water Plantain root, Polyporus Sclerotium, Szechuan Lovage root, Safflower flower, Tumeric tuber, Atractylodes, Round Cardamon fruit, Astragalus root, Chinese Yam, Cinnamon bark.
Instruction: Take 4-6 capsules (depending on severity of symptoms), 3 times each day with warm water. Continue until the swelling subside.